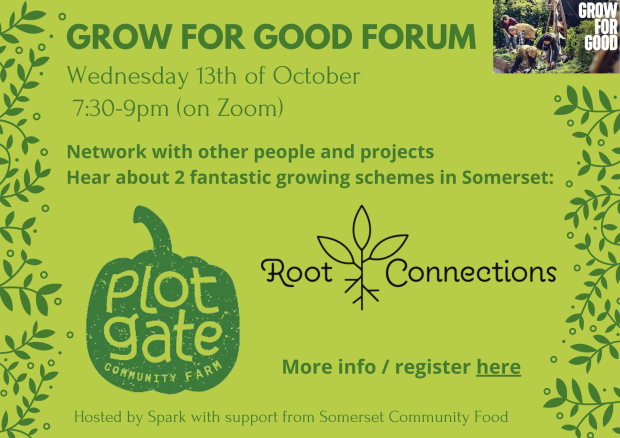 Are you growing for good? Want to find out more?  Join us at the next Zoom forum!
New date in early December to be confirmed soon.
We will open the forum with a round of brief introductions, followed by 2 inspiring growing project talks. There will be time for discussion and to ask questions following each one.
8pm - Amy Willoughby from Plotgate Community Farm, Barton St David
The Plotgate team grows food on 10 acres of land using agroecological principles, with very productive vegetable gardens. It runs as a CSA - members subscribe for a weekly veg share. Amy will speak about how their growing project has developed over the last few years as well as how they involve volunteers and provide training on the farm and veg box scheme.
8:30pm - Sue Cross-Bourton, Root Connections, Stratton on The Fosse
Root Connections (Community Interest Company) runs a community market garden for the benefit of their hostel residents and local people. They grow and sell vegetables, salad, cut flowers and offer Social and Therapeutic Horticulture sessions. Sue is manager at the project, joining in July 2018 and has a background in marketing and catering. She will be talking about how the project works, what they grow, how it is distributed and who is involved.
Register here
See you there!