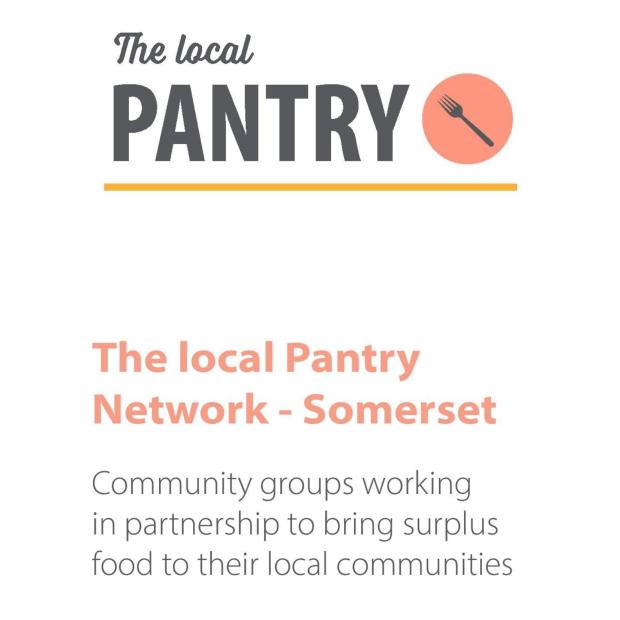 A local food pantry buys and collects surplus food and sells it to members at low cost - £3.50 each week for approx 8-12 items. It reduces food waste and provides good value food. There are 5 established pantries in Somerset listed below, with more opening soon. Run by the community for the community there are different ways you can get involved:
Join: To join your local pantry you will need to live locally and become a member (there may be a waiting list). You won't know what you will be receiving each week but its value will always exceed what you pay.
Volunteer: Support is always needed, e.g. collecting and receiving surplus food, running the pantry for members, writing recipes etc. Contact your local pantry to get involved.
Donate food: You can donate food items as a business or individual, contact you local pantry to discuss what you can offer. 
Set up a food pantry: There is support available to assess for / set up a pantry in your community, as well as advice on grant funding. Please contact Helen Phillips 07557481418 / thelocalpantry@somersetwestandtaunton.gov.uk
 
Local Pantry details:
East Bridgwater (Sydenham) Local Pantry: Weds afternoon at Sydenham Community Hub, EastBridgwater.Pantry@gmail.com
South Bridgwater (Hamp) Local Pantry: Weds afternoons at 2-3 Grenville House, thepantry.southbridgwater@gmail.com
Highbridge and Burnham-on-Sea Local Pantry: Friday afternoons at Morland Community Hub, hbos@gmail.com
Minehead Area Local Pantry: Tuesday afternoons at Parish Church of St Michael the Archangel, Alcombe, foodcupboardws@outlook.com
Rowbarton Local Pantry: Tuesday afternoons at Rowbarton Methodist Church, rowbartonpantry@gmail.com