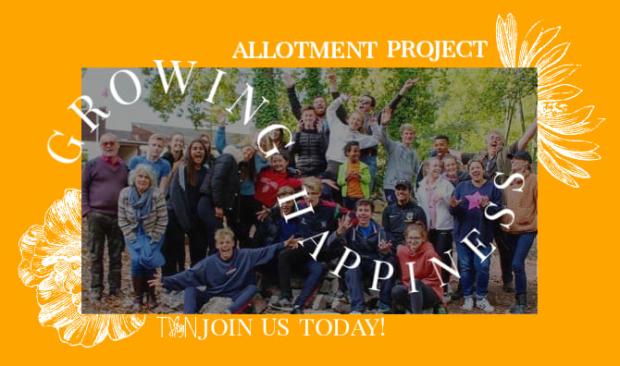 Location: The Growing Happiness project is based opposite The Volunteer Network offices on Silver Street, Glastonbury. The allotments are on private ground and are accessed through The Volunteer Network's Growing Happiness sessions.
What they do: The Volunteer Network will be running an allotment and slow-grow gardening sessions. Groups are small and are open to people who are feeling isolated, have mental health issues, want to meet new friends, improve their self confidence, or their physical strength, mobility and fitness. You may just want to learn how to grow food, to help save money on your food shopping! We aim to not only grow fruit, flowers and vegetables, but our bodies, souls and maybe some laughter lines too! You will be able to take ideas and techniques home to grow food on a window sill, in a planter or a tub. Our sessions will foster the ability to relax over a 'cuppa', watch the wildlife or just cook up some produce and eat it!
When they meet: Tuesday and Wednesdays - morning session 10am-12.30pm and afternoon session 1.30-4pm. We will work with you to identify which session suits you best. If you are enquiring for a group of people to join a session just for your group, please get in touch and we may be able to help you arrange that.
Who can join / volunteer? 
To join any of the sessions you will need to complete this registration form.  
If you don't have a computer call 01458 836130 for a paper copy to be sent to you, or call in at our office and we will help you fill one in (address below).
As part of our registration we will ask you some personal questions about your health, but this is to keep you safe on the allotment.
Is there wheelchair access?  At the moment there is no wheelchair access on the site, or on the path to the allotments (it is a woodland type path that a tractor could get down but not a wheelchair). Our allotments have not been used in years and we are in the process of making the allotments fit for use again.  We aim to build raised beds for people with mobility issues over summer. Toilets are available nearby at our main office. 
Get in touch / email, phone and website details: Address: The Volunteer Network. 9 Silver Street, Glastonbury, Somerset BA6 8BS. Office open: Monday to Wednesday 10am until 4pm. You are welcome to call in, but please ring before hand to check someone is around, when you intend to call.
Email: Sue@volunteernetwork.org.uk
Tel: 01458 836130
(updated 10/3/22)
51.147494472309, -2.7137549215834
The Volunteer Network,
9 Silver Street,
Glastonbury,
BA6 8BS