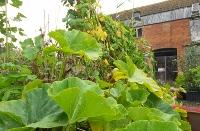 Location: Next to the Red Brick Building, off Morland Road, Glastonbury
What do they do? Come and join our weekly garden volunteering session in this lovely community garden. This is a chance to get outside and help the garden flourish.
When do they meet? Volunteer sessions - Thursdays 10-1pm. Various other organised sessions, workshops and activities.
Who can join? Anyone - whether you're a green-fingered pro or gardening novice, everyone is welcome.

Is there wheelchair access? Most of the garden is accessible, with a number of raised beds.
Get in touch: e-mail volunteers@redbrickbuilding.co.uk
Facebook: https://www.facebook.com/search/top?q=red%20brick%20garden
website: https://redbrickbuilding.co.uk/
(last updated 5/5/22)
51.139098754072, -2.7357226459878
Red Brick Building,
Morland Road,
Glastonbury,
BA6 9FT