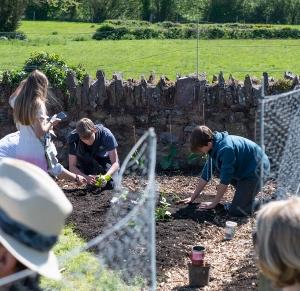 Location / address: Langley House, Wiveliscombe
What they do: Wivey Grows is a community-based growing project that aims to provide the opportunity, space and support for people of all ages and abilities to grow food and flowers, eat, learn, create and play in a nurtured and shared haven.
When they meet: We meet a few times a week. Please see our calendar for the times when Wivey Growers can come and get involved.
Who can join / volunteer? Anyone can become a Wivey Grower, it means you can come along to any Wivey Grower day in the calendar of activities, as well as any of our upcoming events. It's free, there is no obligation, you can do as much or as little as you like.
Please note that all Wivey Growers can only come to the site for scheduled Wivey Grower days, activities and events.
Is there wheelchair access? Most of the site and growing area is wheelchair accessible. There are areas through to the large meadow, lake and woodland that are over grass. 
Get in touch / email, phone and website details: e-mail: info@wiveygrows.net, follow on Facebook -https://m.facebook.com/wiveygrows/ & Instagram @wiveygrows, website - www.wiveygrows.net
Photo: Wivey Grows
(12/05/22)
51.050777052378, -3.31446267566
Langley House,
Wiveliscombe,
TA4 2UF